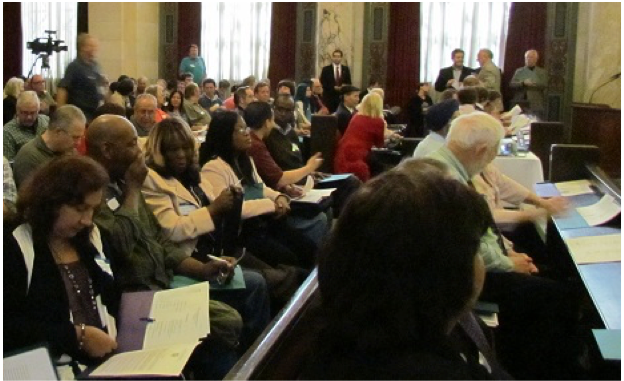 NEIGHBOROOD COUNCILS BUDGET ADVOCATES--Do you want to get more involved? Are you already advocating for your community? Come be a part of Democracy in Action: Budget Day 2017. 
The Los Angeles Neighborhood Council Budget Advocates have invited citizens of Los Angeles to make your voice heard on local City Services, the city's fiscal budget and how your money is spent. Every community is different and every community has their own set of problem areas. Here is your chance to let the Mayor's office, Los Angeles City Council and the City Hall Departments know exactly what matters to you the most! 
As elected officials to the City of Los Angeles, the Neighborhood Council Budget Advocates represent each and every stakeholder in the City of Los Angeles. We invite you to come work side by side with the Budget Advocate to help pinpoint the problem areas in our city as well as highlight the areas that are successful. 

The 36 Neighborhood Council Budget Advocates, representing 12 regions throughout the City, will be in attendance. Make your voice heard and follow our progress throughout the year. 
The NCBAs meet twice a month, the first Monday of the month at 7 PM and the third Saturday of the month at 10 AM to discuss the City's Budget and finances. The NCBAs also meet with most of the departments and issue departmental reports throughout the year. The NCBAs also issue an annual White Paper, usually in March, that contains their recommendations regarding the departments and the Budget. The departmental reports are part of the White Paper. 
For more information and to check out the 2017 white paper, visit NCBALA.com. 
Please register for this free event:
(Adrienne Nicole Edwards is a Neighborhood Council Budget Advocate. She can be reached at: A.Edwards@NCBALA.com.)
-cw
Add a comment