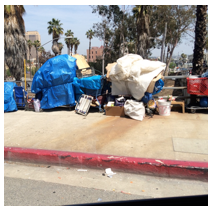 MY TURN-Lately, there's been lots of talk … and meetings … and promises coming from Los Angeles City Hall. But little to no action. Many of us familiar with City Hall history know that this is nothing new. 
Our elected officials have had much to say about the current homeless situation in LA that is being described by some as an "emergency." Others are calling Los Angeles a "Shanty Town." When I drive around, I see homeless camps nearly everywhere. 
Recently, I recently visited Taix Restaurant on Sunset Blvd. near Alvarado to give a speech to a law enforcement group. When I exited the Hollywood Freeway to proceed north on Alvarado, I was amazed to see such a large homeless population living on and blocking the sidewalks under the Hollywood Freeway. There were tents and a variety of other items erected for shelter, blocking the sidewalks. It was impossible to walk on the public right of way. This is all reflective of a Shanty Town – it's just out of control. 
On a recent drive down Woodley Ave., adjacent to Woodley Park in the Sepulveda basin, I saw motor home after motor home parked on the street with people living inside. This is a tragic situation, to say the least. 
There's been so much political talk about finding money to address the homeless situation in Los Angeles, but it seems that nothing noticeable is being done to reduce the problem and negative impact on our neighborhoods and communities. Currently, I serve on the Board of Directors of Hope of the Valley, a group dedicated to addressing the homeless situation in the San Fernando Valley.  There are dedicated community members serving with me, trying to have an impact on the homelessness. But it's not an easy task for a private organization to put a dent in the problem. 
The City and County of Los Angeles say they are dedicating millions of dollars to address the growing homeless situation, but I see a lot of talk with little action. A CityWatch article on November 18 discussed how Los Angeles and New York have announced new programs to tackle the homeless situation. Los Angeles City Council initially approved a plan that would permit public buildings to be used as shelters. These buildings, which are vacant municipal structures and parking facilities, would be selected by councilmembers in consultation with residents. 
The plan being discussed would also permit a limited number of people living in their cars to stay overnight in designated parking lots. I am sure this program will bring loud complaints from neighborhood councils and residents living on the Westside and other upper class communities. Realistically, I don't think this approach will fly in LA.  In New York, Mayor Bill de Blasio announced a $2.6 billion plan to create 15,000 new housing units for homeless over the next 15 years. Empty promises? Just imagine how many homeless people will living in New York over the next 15 years. And like New York, Los Angeles needs action now – not in 15 years. 
In September 2015, Mayor Garcetti declared the rising homelessness in Los Angeles a ''State of Emergency," giving it status equal to a national disaster. This declaration came with a proposal for $100 million for housing and other programs.  
As of January 2014, the National Homeless Count stood at 578,424. Out of that number, 44,539 were residing in Los Angeles County. The number of homeless in Los Angeles City is currently listed as 26,000 - an increase of 3,000 from two years ago. It is estimated that, out the 26,000, there are 18,000 currently living on the streets or in cars and other vehicles.  
In November 2015, the Los Angeles City Council further discussed the homeless matter. More motions were passed and nothing has happened to date. 
If you're going to point fingers at those responsible for inaction on the homeless crisis, don't blame the members of the LAPD. The Police Chief and our officers are following directions from City Hall and our elected leaders. The praise or blame should lie with those elected to serve the people of LA and not with a police force that has been limited in its ability to "Protect and Serve" all the people of Los Angeles.  
With all this in mind -- and with the Christmas Holiday approaching -- if you are interested in helping a private organization that is truly dedicated to addressing and helping the homeless, consider sending a contribution to Hope of the Valley Rescue Mission. All contributions are tax-deductible and I can assure you that your funds will be put to good and productive use. 
Hope of the Valley Rescue Mission 
PO BOX 7609
Mission Hills, Calif.  91346-7609
www.hopeofthevalley.org
818 392 0020 
There are other Rescue Missions around Los Angeles that also deserve your consideration and contributions. These groups are doing what the city has consistently failed to do.  
I wish all of our readers a very Happy Holiday Season … Happy Hanukkah and Merry Christmas.  May your Holiday Season be filled with family, friends and good times.
(Dennis P.  Zine is a 33 year member of the Los Angeles Police Department and former Vice-Chairman of the Elected Los Angeles City Charter Reform Commission, 12 year member of the Los Angeles City Council and current LAPD Reserve Officer. He writes Just the Facts for CityWatch. You can contact him at Zman8910@aol.com) Photo: LA Times. Edited for CityWatch by Linda Abrams.
-cw
CityWatch
Vol 13 Issue 98
Pub: Dec 4, 2015