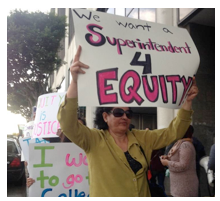 EDUCATION POLITICS-It's decision time at LAUSD.  With the end-of-year departure of Superintendent Ramon Cortines, LAUSD has some decisions to make. What are LAUSD's policy goals for the next few years? Who is the leader to help LAUSD meet those goals? 
Thursday afternoon, on December 3, about 100 parent and student advocates rallied on the steps outside of LAUSD Headquarters to tell the School Board the next superintendent must value the voice of the community and fight for increased fairness in the district. The advocates, organized by Community Coalition urged LAUSD superintendent candidates to sign an equity-oriented "Pledge to the Community" and embrace the principles of fairness and community involvement expressed in the pledge. The advocates also encouraged the Board of Education to use the pledge as a tool for evaluating the superintendent candidates. 
The students and parents at the rally came from South LA and the Eastside--areas where we know too many students are not making it to graduation, and those that do graduate aren't ready for college. These student are not getting the resources they deserve, and the next superintendent needs to do a better job of making sure all students in LAUSD have the tools to succeed. 
One of the most powerful speakers at the rally was Takara Haslem, a junior at Crenshaw High School and a youth leader at Community Coalition. Haslem hopes to be the first in her family to go to college, but repeatedly has been assigned to the incorrect A-G college prep classes causing her to miss valuable weeks of learning. She wants a superintendent who values the education of all students, no matter their race or ethnicity.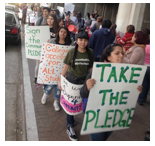 "At times, I lost over two weeks of learning in important classes like History and Algebra," Haslem said. "When my counselors finally placed me in the right classes, I had to work extra hard to catch up, to make sure that I could still be college-ready. This is not fair! Why do black and brown students need to work harder to be college-ready when adults are the ones making the mistakes?" 
Haslem worries her younger siblings will face the same challenges when they come to Crenshaw in a few years. 
The "Pledge to the Community," developed by leaders from InnerCity Struggle and Community Coalition, calls upon the next LAUSD Superintendent to create a healthier learning environment for our students. By signing the pledge, the next superintendent would commit to prioritizing community involvement, addressing racial disparities and acknowledging the need for developing strategies targeted specifically at schools in high poverty areas that have previously lacked necessary funding. 
In addition to these broader commitments, the pledge also asks the next superintendent to commit to implementing specific policies to ensure LAUSD students are prepared for college and career: A-G Readiness for All; continued progress on school discipline reform, putting a greater emphasis on restorative justice programs that help students heal rather than simply suspending or expelling them; and full implementation of the "Equity is Justice" resolution urging greater investment in schools with the highest need. The "Equity is Justice" resolution was passed by the School Board in 2014. 
Davona Watson, a senior at Wilson High School and a youth leader with InnerCity Struggle, explained at the rally why it is so important that the next superintendent understand the need for a positive school climate and restorative justice programs, which encourage students to take responsibility for their actions and resolve conflicts with their peers. 
"Restorative Justice allows guidance for both students and adults to build a thriving environment where students can feel comfortable, safe and be heard," Watson said. "Although we have made much progress, we need this policy to be more than a slogan that is generally misunderstood and rarely applied." 
This past weekend executive search firm Hazard, Young, Attea & Associates, who is conducting the superintendent search, began meeting with the candidates. This follows a series of meetings between the search firm and key community stakeholders including parents, students and staff from Community Coalition and InnerCity Struggle. 
We hope that both the Board of Education and the executive search firm were listening to the voices on Thursday calling for change --the voices of Takara Haslem and Davona Watson asking for a superintendent that will make students like them a priority. It's decision time at LAUSD, and we hope LAUSD's next superintendent will make the decision to sign the "Pledge to the Community," and make equity and community involvement a priority.
(Henry Perez is Associate Director of InnerCity Struggle.  Sandra Hamada is Director of Youth Organizing and Programs at Community Coalition.) Prepped for CItyWatch by Linda Abrams.
-cw
CityWatch
Vol 13 Issue 99
Pub: Dec 8, 2015