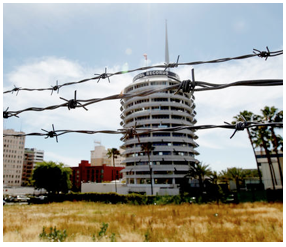 VOICES OF THE PEOPLE--A funny thing happened on the way to asking Angelenos to pay more taxes while watching the laws of physics, biology, and the City Charter:  they got desperate, felt cornered, and started to rebel. 
Certainly, the venerable efforts of Save Valley Village, and others like it, are being opposed by City Councilmembers who "understand" but disrespect their sentiments by continuously falling back on a "Downtown Group-Think" which justifies every possible excuse to overdevelop at the expense of the lives, environment, health and financial survival of honest, law-abiding City residents. 
Ditto for the Neighborhood Integrity Initiative, backed by the same grassroots types who want to have more mobility, economic opportunity, and environmental laws supported by the City Council, but instead have to confront and oppose a City Council, Mayor, and Planning Department which prefers to break the law, change the law, and thwart the lives and wills of their tax-paying constituents. 
And did you hear about the awful (gasp!) organization backing the Neighborhood Integrity Initiative, which merely requires a halt on overdevelopments (which, when they're brought before the courts and neighborhood councils, are routinely opposed and shut down) and an adherence to City Charter and its associated environmental laws and laws of democratic governance? 
It's that pesky, evil Aids Healthcare Foundation sponsoring the Neighborhood Integrity Initiative! 
And that evil, dangerous United Neighborhoods For Los Angeles - UN4LA which is pushing for it!   
Heaven forbid that smart development should be ... smart. 
Heaven forbid creating affordable housing should actually do it ... and not overdevelop with boatloads of high-priced, market-value projects with an already insufficient water and infrastructure to support what now exists in our City. 
Heaven forbid that those neighborhoods who really want to help the homeless, create more mobility through mass transit and appropriate transportation/planning measures, and ensure a livable environment should be empowered to actually do all that. 
And Heaven forbid that City Hall should allow those of us working ever more to keep what we have, while paying more and more for taxes and utility rates while getting less and less in return for them, should be allowed to economically survive instead of City leaders focusing on the profits of well-connected developers and a few small-but-connected special interests. 
It's pretty certain that the "true believers" and "density zombies" at Curbed LA and the like, will continue to work with the Mayor to pat us all collectively on the head, give a few tsk-tsk's, and tell us that all this sentiment is understandable but misguided, and make everything worse...and that we're all just a bunch of NIMBY's. 
It's also pretty certain that those of us who fought (and paid for, and are agonizing over paying more for) to create mass transit and upgrade our infrastructure, and are now being told to swallow ridiculous transit zones of 1/2-mile from train stations, monstrous overdevelopments that destroy and negatively change neighborhoods, and to give up our cars and commute 5-20 or more miles each day on our bicycles and buses... 
...while City leaders and only the wealthy and connected access work through their own cars... 
...will agonize over the decision to pay more for necessary transportation, or say "NO!" even to good transportation measures and its funding just to make a statement to City Hall. 
Finally, the question of taking back City Hall (which was the intent of Mayor Riordan and the Neighborhood Council Initiative) with the Neighborhood Integrity Initiative will also be on our minds if it gets enough signatures to make it on the November ballot. 
So we've got a "S.O.S." to save so much of what we hold dear, and to keep what we fought for while implementing appropriate and fair-minded change: 
1) Let's do what we can to ensure the Neighborhood Integrity Initiative gets on the November ballot 
2) Let's do what we can to ensure a "Measure R-2" for transportation funding on the November ballot, too. 
And let's see what a "S.O.S." can do as ordinary citizens scratch and claw their way to a City that truly represents the will of the citizenry.
(Ken Alpern is a Westside Village Zone Director and Board member of the Mar Vista Community Council (MVCC), previously co-chaired its Planning and Outreach Committees, and currently is Co-Chair of its MVCC Transportation/Infrastructure Committee.  He is co-chair of the CD11Transportation Advisory Committee and chairs the nonprofit Transit Coalition, and can be reached at  Alpern@MarVista.org.   He also does regular commentary on the Mark Isler Radio Show on AM 870, and co-chairs the grassroots Friends of the Green Line at www.fogl.us. The views expressed in this article are solely those of Mr. Alpern.) 
-cw
CityWatch
Vol 14 Issue 4
Pub: Jan 12, 2016-01-11