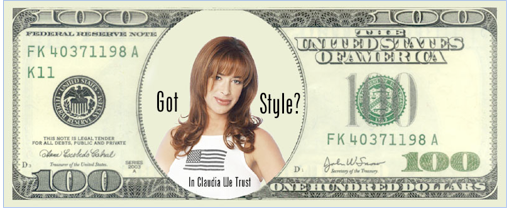 Hot Tip: If you go to www.ArmaniWells.com you can print this coupon and use it for $100 off the already low prices on ultra high end men's fashion!

Today, I missed out on $328.00. I really needed that money too.

My woeful tale begins yesterday. I was working on a television show. It was a tough day. The scene was shot in what felt like the swamplands of Burbank. I was playing a cop, so I was all uniformed up with a heavy belt full of weaponry around my hips for eleven long hours. Hey, I'm not complaining. Just the facts.
Around 9:30 am, I got an email on my handy dandy smart phone, informing me that I was booked for the next day on a commercial through LA Casting. Yeehaw!  I don't get many commercials and they pay really well. Work has also been pretty darn scarce too, so this booking came none too soon.  

In the email, the casting director requested a confirmation to the booking, which I gave by clicking on the blue email link that was in the body of the text he sent. That was the beginning of the end. This mode of confirmation triggered a chain of events that would drive me down a road fraught with technological glitches and miscommunications, and ultimately, into the loss of a chance to make $328 and the opportunity to work with some new folks in Hollywood.

Seems that a glitch in my cell phone cost me a good day's work. Still, I did score in finding a deal on the boulevard. 

Turns out there is an awesome place called Armani Wells. It's the only high end men's resale store in the city and people come from all over SoCal to find great discounts here. All kinds of high falutin' types who travel the world dispose of little worn threads at this little shop on Ventura Boulevard, four blocks west of Laurel Canyon. The suits will really take your breath away. The fabric is fantastic. The cuts are sublime. Here, you can get an Armani, a Gucci, a Prada suit for a fraction of what these outrageously expensive items would cost if they were new.

Most of the suits I saw were ranging in price from around $300 to around $600. Not cheap, I know; but, for a $2000 to $4000 suit, it is spectacular. And, the stuff is in perfect condition.

CeCe, a charming French woman who works at the shop, knows right away where some of choice deals in the store are. She's more than happy to help out. The suits are divine; but they also have a variety of men's fashion on hand. They've got high end jeans, shirts, shoes, belts, ties, sunglasses and other accessories. All gorgeous. All like new.

CeCe showed me an Alexander McQueen jacket that was exquisite. Custom made for a "famous musician," the piece was a work of art. It even had a flowery thread work design that was made of real gold! I don't know who this guy is, but he's unloaded some real pricey stuff at Armani Wells.  I tried to get CeCe to tell me, but mum's the word for her.

Many of the clothes found in the shop have never been worn. They're only called "resale" because they were previously sold at very expensive stores and then returned. Still others have been worn only once and often come from film and television sets. The owner has a lot of connections in the biz. She's none other than Claudia Wells. You may recall she played alongside Michael J. Fox as his girlfriend in the original "Back to the Future." She also does the voice for that role in the video games based on that movie and has more recently appeared in "The Mentalist" among other shows.

Believe me, if you're into the super high end look, I really don't know anywhere else where you could get a perfect Prada suit for $595. Oh, and don't let me forget, they have sales all the time too. Right now, it is 30% off of everything, including that Prada suit.

So, there you have it. Out of the perfect storm, comes the perfect suit.


MUST KNOW:

Armani Wells  
12404 Ventura Blvd. Studio City 91604
Phone: 818-985-5899

Hours: 11 am to 6 pm Monday through Saturday and 12 pm to 6 pm on Sunday

http://www.armaniwells.com/


(Jennifer Caldwell is a an actress and an active member of SAG-AFTRA, serving on several committees. She is a published author of short stories and news articles and is a featured contributor to CityWatch. Her column at www.RecessionCafe.wordpress.com is dishing up good deals, recipes and food for thought. Jennifer can be reached at This email address is being protected from spambots. You need JavaScript enabled to view it. . Facebook: http://www.facebook.com/jennifercald - Twitter: @CheckingTheGate)



CityWatch
Vol 10 Issue 68
Pub: Aug 24, 2012