Charlie Beck's Anniversary is a Walk in the Park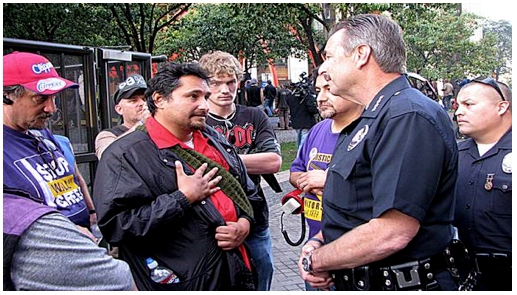 RETHINKING LA - Chief of Police Charlie Beck celebrated his second anniversary as LA's top cop by walking the beat, this time through the Bank of America Plaza where he chatted with Occupy LA protesters who had set up a camp on the bank's property.
Beck occupies a unique position in the world of Occupy protests and is one of the only Police Chiefs in the country to establish a relationship with protesters that is based on respect and dignity.
Los Angeles stands alone in its deferential handling of the Occupy LA protest, demonstrating a commitment to the constitutional rights of the protesters that is in stark contrast to the violent behavior in cities such as Davis, Portland, Oakland, and New York City.
Beck's walk through the Plaza, just like his walks through City Hall Park, demonstrated a commitment to community policing, one that treats the Occupy movement as a community that deserves a relationship.

Beck's commitment to "rule of law" policing is the foundation of his law enforcement philosophy, a position that he emphasized when he was just one of several applicants vying for the Chief's position that opened up when Bratton left town.

During the confirmation process, Beck declared "We don't break the law to enforce the law."

As Mayor Villaraigosa approaches the end of his second term in office and the field of candidates who want to serve as Mayor of Los Angeles fills up, it is important to note that Beck is rumored to be considering retirement in 2014, meaning the new Mayor will be selecting a new Chief.

That means the people of LA must speak now to help the Mayoral candidates frame their public safety platforms in the context of selecting a new Chief.

That also means the people of LA must speak now to help the candidates for Chief of Police know what kind of community policing strategies are best for LA.

The candidates for Mayor currently include City Council President Eric Garcetti, City Controller Wendy Greuel, Councilwoman Jan Perry, Austin Beutner, and Kevin James.

Now is the time to hold these candidates responsible for establishing a position on the constitutional rights of the Occupy LA protesters.

The likely candidates for Chief of Police include Assistant Chief Earl Paysinger, Deputy Chief Michel Moore, Deputy Chief Kirk Albanese, Deputy Chief Sandy Jo MacArthur, Deputy Chief Debra McCarthy, Deputy Chief Jose Perez, Deputy Chief Rick Jacobs, Deputy Chief Jorge Villegas, Commander Sharon Papa, and Commander John Sherman.

They're all veterans with long resumes, many of them have been through Chief of Police selection process before, but this is a new day in LA and the next Chief will either move us forward in a commitment to community policing or return us to the "war room" mentality of days gone by.

Now is the time to send a message to those in charge of LAPD operations, including Paysinger and Jacobs, that the world is watching and that they are responsible for defending the Constitutional rights of those who petition their government.

Now is the time to send a message to those in charge of LA's relationship with Occupy LA,  including Perez and Sherman, that the people living in City Hall Park are Angelenos and that the actions witnessed in Davis and Oakland and on Wall Street are not acceptable in Los Angeles.

Now is the time to send a message to those in charge of Bureau operations, such as Villegas and McCarthy, that their record for building community relationships is their strength and that partnerships prevail where tactical gear fails.

It is important to note that Mayor Villaraigosa is under pressure and as the President of the US Conference of Mayors, he declared in his inaugural speech "Mayors, we can't afford to be timid." As he develops an exit strategy and works on his next appointment at the federal level, it is reasonable to expect him to feel pressure to toughen up his approach to Occupy LA.

This will put pressure on Beck and his command staff to act decisively, perhaps while Villaraigosa is out of town, leaving the responsibility on the shoulders of the City Council President.

The time to speak up is in advance of the impending action, not afterward in a replay of the Davis pepper spray assault that has left a trail of damaged careers in its wake.

The world is watching and the City of LA has an opportunity to demonstrate that it is a new city, one that embraces the rights of its residents and treats people with respect and dignity.

It won't happen by accident. It will only happen if the people of LA speak up, establish priorities and a commitment to the rule of law, and communicate their expectations clearly to the Mayor, the City Council, and the LAPD.

(Stephen Box is a grassroots advocate and writes for CityWatch. He can be reached at:     Stephen@thirdeyecreative.net .) Graphic credit: punditkitchen.com –cw

Tags: Occupy LA, Los Angeles, Charlie Beck, Chief Beck, LAPD, Police Chief, LA Police Chief, Mayor Villaraigosa, Kevin James, Wendy Greuel, Eric Garcetti, Austin Beutner, Jan Perry, Bank of America






CityWatch
Vol 9 Issue 64
Pub: Nov 25, 2011