Wheeling & Dealing Boston Frankie Still Scheming in Dodgerland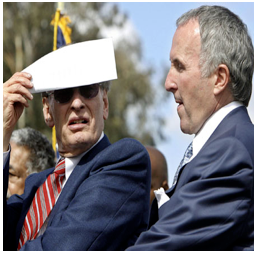 HOW MCOURT PLANS TO MAKEOUT ON THE DODGER DEAL - When it comes to money, what the looting Boston Frankie does is often very different from what the dapper Frank McCourt says in public.

In the last several weeks, Frank has entered into a settlement agreement with Princess Jamie, his ex wife and former business partner, worth $131 million in cash.  He has also agreed to sell the Dodgers, hopefully by Opening Day, and even retained an investment bank to facilitate the process.
And according to Bill Shaikin, the go to Los Angeles Times reporter on all things McCourt, Frank even apologized to the Dodgers' fans for all the ownership shenanigans over the last two years.
At the same time, real estate speculator Boston Frankie and Fox Sports have traded lawsuits over the his desire to auction the media rights to the Dodgers prior to November 30, 2012, a clear violation of the team's contract with Fox Sports.   

But this litigation is just part of the Boston Frankie's strategy to maximize his returns at our expense, where the sum of the parts is worth more than the whole.

The Boston Parking Lot Attendant's game plan is to retain ownership of all of the land in Chavez Ravine, including the parking lots and the land under Dodger Stadium.  He is also angling to retain an equity interest in the new Dodger Network as well as a minority interest in Dodgers.

As part of this convoluted scheme, the Dodgers would enter into long term contracts with the Boston Parking Lot Attendant to lease the parking lots and the land under Dodger Stadium.  The resulting lease payments and the land would then serve as collateral for new borrowings.

Boston Frankie is also forming a new company to control the media rights to the Dodgers. This entity would be the foundation for a new Dodger Network, very similar to the very successful Yankee Entertainment and Sports Network and the New England Sports Network, 80% of which is owned by the Red Sox.  

The proceeds from the sale of the Dodgers and the loans backed by the lease payments, the land, and his equity interest in the Dodger Network would allow wheeler dealer Boston Frankie to repay the Dodger indebtedness of $700 million, refinance his existing loans on the parking lots and his remaining houses, pay Princess Jamie her $131 million, liquidate his personal obligations to Fox Sports related to the 2011 advances to fund the team's losses, and pay off his outstanding  legal fees and other sundry obligations.

He would even have money left over to purchase a minority interest in the Dodgers!

But for Dodger fans, it is a time of optimism.

During the second half of the season after the All Star break, the Dodgers played very well, winning 13 more games than they lost. Matt Kemp, the MVP runner up, has been signed to a long term contract and Clayton Kershaw won the National League Cy Young Award.  And hopefully, our new, well capitalized owner will be willing to invest in talent that will add some firepower to the batting order and strong arms to the pitching corps, resulting in a pennant contender that will draw the crowds of yesteryear.

But the chief reason to believe in next year is that the morally and financially bankrupt Boston Frankie and his family will be history, no longer involved with the Dodgers.

While the ultimate outcome of the sale of the Dodgers is still unknown, we must rely on Bud Selig and Major League Baseball to protect the true blue Dodger fans from the ever scheming Boston Frankie and his convoluted Enronesque schemes that threaten to further undermine the Dodgers and Major League Baseball itself.

So Bud, here's looking at you.  Please make sure that the racketeering Boston Frankie is just a very bad memory by Opening Day.  Otherwise, be prepared to hear the many boos on Opening Day and for another major drop in attendance.  

(Jack Humphreville writes LA Watchdog for CityWatch He is the President of the DWP Advocacy Committee and the Ratepayer Advocate for the Greater Wilshire Neighborhood Council. Humphreville is the publisher of the Recycler -- www.recycler.com. He can be reached at:   lajack@gmail.com ) –cw

Tags: Dodgers, LA Dodgers, Jack Humphreville, Frank McCourt, Bud Selig, MLB, Major League Baseball







CityWatch
Vol 9 Issue 94
Pub: Nov 25, 2011