We've All Got a Stake in the Jail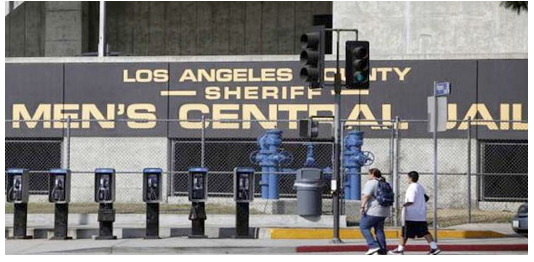 CROSSING THE LINES - The Men's Central Jail sits on the edge of downtown, a non-descript structure surrounded by a cottage industry of bail bondsmen. Built mostly during the Kennedy Administration, it's a deeply depressing place, filled with 4,000 or more men crammed into dank cells.
A good number of them are short-timers—misdemeanor offenders serving just a fraction of their sentences because of the overcrowded conditions. But there are hundreds upon hundreds of others—accused murderers, rapists, drug kingpins and the like—who are incarcerated in the so-called MCJ while they await trial, a process that can sometimes consume years.
Unfortunately, it's a place where some Sheriff's Department deputies also have crossed lines of behavior demanded of them in a civil and constitutional society.
As you may have heard or read, Los Angeles County's sprawling jail system, which includes the more modern Twin Towers Correctional Facility, is under investigation by the FBI because of alleged brutality by deputies who run the operation.

On Friday, a new investigative body, comprised of seven distinguished individuals, will begin its inquiry into excessive force behind the bars. The Citizens' Commission on Jail Violence was unanimously created by the Board of Supervisors through a motion by Mark Ridley-Thomas and me.

The commission was infused with a no-holds-barred mandate to help us understand how a small minority of deputies could poison the culture of an entire institution.

In the hopes of better understanding the challenges ahead for the commission and the Sheriff's Department, I visited the Men's Central Jail this week with Sheriff Lee Baca and Captain Ralph Ornelas, who oversees the facility. Day in and day out, I can't imagine a tougher, more menacing workplace, especially for rookie deputies who spend their first 3 to 5 years assigned to the jails—a practice now rightfully being reexamined.

Ornelas, the Brooklyn-born son of a New York cop, was put in charge of MCJ in March. He says he's determined to be a force for change, inspiring a fundamental shift in the way his charges approach their jobs. "It's about brains, not brawn," he tells the deputies. "Let's be more cerebral, more sophisticated, more professional."

He says that when deputies resort to force too quickly, they're not only unnecessarily escalating situations but undermining their own effectiveness today and in the future, when they're in patrol cars. "You have to develop your people skills, think through problems. It's about verbal tactics. This way, you become a more confident deputy, who can solve problems."

"The deputy in the jail," he preaches, "becomes the deputy on the streets."

I wish Ornelas and the Citizens' Commission much success in their parallel missions because the stakes could not be higher—not just for the inmates and deputies but for all of us.

In the months ahead, thousands of new inmates will be entering our jail system thanks to a monumental shift of responsibilities in California's criminal justice system called realignment.  As of October 1, inmates convicted of certain non-violent, non-serious, non-sexual crimes that used to get them a stay in one of California's 33 prisons, are being sentenced to county jails.

Virtually overnight, the management of our lockup has become immensely more complicated, requiring daily decisions about which inmates should be freed earlier to clear space for the arrivals. The implications for the safety of our neighborhoods are enormous.

So while it may be easy for some to dismiss the pain inflicted on inmates by their jailers, it's important to remember that what happens inside that difficult place can affect each and every one of us. Every facet of the facility must be operated with precision and professionalism. The jail may be located on a small, obscure street named Bauchet, but this is one problem that's in everyone's backyard.

(Zev Yaroslavsky is Los Angeles County Supervisor for the Third District. He can be reached at zev.lacounty.gov) –cw

Tags: jail, Men's Central Jail, County Jail, Sheriff's Department, Sheriff, Lee Baca, Mark Ridley-Thomas, Zev Yaroslavsky, Twin Towers








CityWatch
Vol 9 Issue 92
Pub: Nov 18, 2011