Simplemente Digamos "No!" Al Racismo! (Just Say "No!" to Racism!)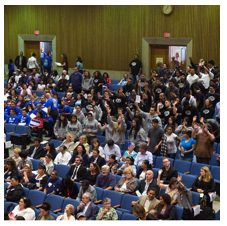 ALPERN AT LARGE - Well, it's official:  The LA County Board of Supervisors did NOT create a "second Latino district" and instead voted 4-1 to keep things similar to the status quo and with only a slight shifting of the county supervisorial boundaries. (Link)

Supe Zev Yaroslavsky's district will still encompass the Westside and San Fernando Valley; Supe Mike Antonovich's district will still encompass the Lancaster, San Gabriel Valley and Inland Empire regions; Mark Ridley-Thomas' district will still encompass a central county region from the Westside to Downtown; and Don Knabe's district will still encompass the South Bay, Long Beach and the Southeast Cities.

And Gloria Molina's district will still be a Downtown/Eastside district that is poorly represented by a venomous, spiteful and disagreeable tyrant who gets along with very few people and paints a terrible picture of what a favorable, mature and strong-willed Latino/a leader should never be.  And a district run by a true poster child for term limits.

Yes, there are a few strange folks like Mark Rosenblum of the ACLU who view the world through race- and racist-tinted glasses, and who will inevitably be disappointed by this decision. (Link)

Ditto for the Times. (Link) By and large, however, white and black and Asian and Latino voters weren't and still aren't interested in creating another "Latino District" any more than they were interested in creating a "white district".  No matter what the heck some twisted lawyer or judge proclaims, gerrymandering is just plain wrong and any attacks on any ethnic group is just plain wrong.
●●●●●●

See Also:
● "Redistricting's Silver Lining"-Zev Yaroslavsky
● "Knabe Redistricting Plan Accepted, Lawsuits Probable, Secret Plan in Play"- Celeste Fremon
● "LA County Approves Status Quo Redistricting Plan" - Gene Maddaus
●●●●●●
One must wonder how future history books will treat this current obsession with racial persecution and racism and divisiveness.  Will it equate this obsession with race as a psychological, Tammany Hall-style warfare that served more to empower a small group of political tyrants than it empowered the general public of all races?

And will those of us who paid attention when we were in school to learn about our nation's past racism recognize when we, in turn, are being attacked by a New Racism, one based on achieving power through guilt, incrementalism, selective enforcement of our laws and legal power plays that thwart the will of the majority and flouts the intent of our antiracism laws?

You can call Yaroslavsky, Knabe, Antonovich and Ridley-Thomas a lot of things, but racist Latino-bashers is not an apt description that should be taken seriously by anyone—but which is implied by the politically-motivated accusations and legal bullying we're seeing on the part of Supervisor Molina.

Note to Supervisor Molina:  are your actions helping, or hindering, the desire of whites, Asians, African-Americans and even socially-integrated Latinos to vote more Latinos to higher office?  Does the voting public want more Gloria Molinas?

Aren't there more pressing things to fight for, Supervisor, such as the potentially-job-creating plan by AEG to rebuild the Downtown Convention Center and creating a football stadium that would create jobs for Latinos (and all Angelenos throughout the city and county?  Isn't the need for AEG to develop a downtown parking/transit scheme (link), more important than playing the race card?

How about AEG buying out the land next to the future Sepulveda/Exposition/Pico station that the Casden developers might have to foreclose on, and building a long-overdue Westside Regional Transit Center for car, bus, rail, bicycle and pedestrian commuters converging on the Expo Line (and going to Downtown and the Eastside) from the Valley, South Bay and Westside?

How about taking a lead on the Downtown Light Rail Connector and facilitate the access and commerce throughout the Downtown and Eastside regions?

Or is it just more fun and less work to attack non-Latino ethnic groups that only wanted to get along with their Latino and other neighbors?

Is it the power?  The money?  The ego?

Or perhaps is it just the belief that a Latina, civil-rights-focused political leader can become so obsessed with racism that she can cross over and wake up one day with racist motivations of her own?

(Ken Alpern is a former Boardmember of the Mar Vista Community Council (MVCC), previously co-chaired its Planning and Outreach Committees, and currently is Vice Chair of its MVCC Transportation/Infrastructure Committee. He is co-chair of the CD11 Transportation Advisory Committee and chairs the nonprofit Transit Coalition, and can be reached at Alpern@MarVista.org . The views expressed in this article are solely those of Mr. Alpern.) –cw

Tags: LA County, Board of Supervisors, Zev Yaroslavsky, Mike Antonovich, Don Knabe, Gloria Molina, Mark Ridley-Thomas, redistricting







CityWatch
Vol 9 Issue 78
Pub: Sept 30, 2011