No Ring Kissers for Poor Sean Harrigan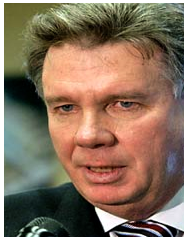 LA WATCHDOG-Sean Harrigan, a former commissioner of the Fire and Police Pension Plans who resigned under pressure in May 2009, is suing the City to pay his attorney's fees and recover his costs in connection with the Securities and Exchange Commission's probe into his relationship with the pension plan. As a result, the City is appropriating $50,000 to pay for the law firm of Albright, Yee, and Schmidt to handle this attempt at extortion where he threatens to tell all unless the City pays his costs. 
(Link)
On the other hand, all Antonio Villaraigosa needs to do is send out a letter to all the City supplicants and his political cronies asking them to fund his three legal defense funds set up in connection with his illegal use of over $200,000 of free tickets to numerous high profile events such as the Lakers, Dodgers, Oscars, and Emmys.
(Link)
Within a period of two weeks, these three legal defense funds received $123,500 from numerous union funded politicians, lawyers, and other ring kissers who are no doubt looking for a handsome return on their investment.  These funds will be used to pay the $42,000 slap on the wrist fine and related legal expenses that are twice the amount of the fine. (
Link)
This does not include the $56,300 deposited this year in the Mayor's Officeholder Account, his personal slush fund.
What these two cases have in common is the failure of the City to conduct a thorough investigation into possible corruption.
In the case of Sean Harrigan, the Mayor and the City Council did not conduct extensive due diligence on Harrigan in 2005, especially given that he was ousted as President of the California Public Employees Retirement System in December 2004.  Rather, they relied on his political and union connections, ignoring rumors of pay to play improprieties.  
As for Antonio Villaraigosa, the politically appointed City Ethics Commission has neglected to review and analyze the finances of the Mayor and how he affords to live the life of a millionaire as he and his cronies are swilling $500 bottles of wine, puffing on Cuban cigars, and dining at the City's finest restaurants.
So where is the Controller? Where is the City Council? Where is the City Attorney?  And where is the District Attorney?
Is it any wonder why Angelenos do not trust City Hall?
(Jack Humphreville writes LA Watchdog for CityWatch He is the President of the DWP Advocacy Committee and the Ratepayer Advocate for the Greater Wilshire Neighborhood Council. Humphreville is the publisher of the Recycler -- www.recycler.com. He can be reached at: lajack@gmail.com )
–cw
Tags: Sean Harrigan, Mayor Villaraigosa, City Attorney, Controller, Fire and Police Pensions
CityWatch
Vol 9 Issue 64
Pub: Aug 12, 2011