McCourt's $400 Million Looting Plan and $900 Million of Debt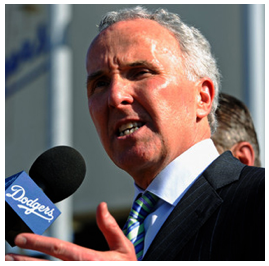 DODGER RED … INK - If Frank McCourt was able to complete the 17 year, $1.7 billion media rights transaction with Fox Sports that included an upfront payment of $385 million, he would have looted the Dodgers for over $400 million and saddled the team with over $900 million in debt.
Since 2004, Frank and Princess Jamie have fleeced the Dodgers for over $180 million according to Bud Selig's letter of June 20 to our boy Frank rejecting the Fox Sports contract.
If Frank had been permitted to proceed with his scheme, $173.5 million would have been diverted to his personal use:  $10 million for walking around money for Frank and Princess Jamie; $10 million for personal legal bills; $23.5 million to Frank to repay him for the advance he made to the team to meet payroll (which he in turn borrowed from Fox Sports); $80 million to repay indebtedness of affiliated entities; and $50 million as a partial payment to Princess Jamie.
And in addition to this $353.5 million is another $50 million that would be paid to the Princess over time.  The total is north of $400 million.
Under Frankie's self serving scam, total debt would have increased to over $900 million, almost $500 million more than the 2004 purchase price of $421 million.  
The debt would consist of the current Dodger debt of $550 million; the $150 million of debtor-in-possession financing that is needed to replenish the team's depleted working capital; $70 million of parking lot related debt; and $173.5 million related to the advance from Fox Sports, less certain repayments.  
This mountain of debt would be the responsibility of the Dodgers.  But the Dodgers are losing money.
After 62 home games, attendance is off 17.3%, implying 617,000 fewer fans than last year. Based on average stadium revenue of $48 per person, the revenue ding is almost $30 million.
However, the hurt is significantly more than $30 million because of the increased level of no shows and massive discounting of ticket prices.  For example, the team sold over 10,000 premium tickets for the July 4 Mets game for only $4.
Overall, it would not be surprising if stadium revenue were off by $40 million from last year.
And this downturn in revenue is just beginning.
Next year, season ticket sales and prices will plummet as the big spenders abandon the team and its loser of an owner.  And the value of the media rights will lessen as the ratings for the Dodgers broadcasts continue their downward trend.
Fortunately, the Commissioner blew this self serving deal out of the water. Now it is the turn of Princess  Jamie, Judge Scott Gordon of Divorce (Superior) Court, and Judge Kevin Gross of the Federal Bankruptcy Court in Delaware to send Frankie back to Beantown.
(Jack Humphreville writes LA Watchdog for CityWatch He is the President of the DWP Advocacy Committee and the Ratepayer Advocate for the Greater Wilshire Neighborhood Council. Humphreville is the publisher of the Recycler -- www.recycler.com. He can be reached at:    lajack@gmail.com )
–cw
Tags: Dodgers, Frank McCourt, Jamie McCourt, Princess Jamie, ticket sales, season tickets, Baseball Commissioner, Bud Selig
CityWatch
Vol 9 Issue 64
Pub: Aug 12, 2011