The Race to Erase Race from the Crenshaw/LAX Line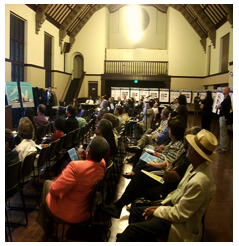 ALPERN AT LARGE - Approximately a year ago in a CityWatch column,  I commented on the need to "erase race from the Expo Line", in part because one of the main reasons I became such a big supporter of the Expo Line was to help bring the Westside, Mid-City and Downtown regions together…not just with respect to transportation but with respect to de-balkanizing the City of the Angels.
[link to column]
Unfortunately, that need to erase race from transportation projects now shifts to the Crenshaw/LAX Light Rail Line.  Count me in as a big supporter of the Crenshaw/LAX Line, which has multiple components and branches that will connect the Westside, South Bay, Mid-City, LAX and even Wilshire regions in the years to come.  But count me out as someone that wants to inject racial politics (which I find wholly repugnant) into this necessary line.
Times Columnist Hector Tobar recently appeared to promote the need for South LA (in particular, the black community who resides and/or commutes to the Crenshaw Blvd. Corridor) to be as litigious as the Westside when it comes to transportation projects,
(link)
. However, Mr. Tobar forgot to highlight or even mention the track record of Westside and other lawsuits against public works projects.
Like Mr. Tobar, I vigorously support a reasonable and realistic Crenshaw/LAX Line access to Leimert Park, but also like Mr. Tobar I suspect I'm not the only transportation advocate to question the need or the ability to spend several hundred million in extra dollars to completely grade-separate the future Crenshaw/LAX Line at Leimert Park … particularly since that money is so desired by other communities for construction and mitigation of "their" projects.
I'm certainly not blind to the seething rage that Crenshaw Corridor residents have at feeling left out of a first-rate station and underground light rail grade separation at Leimert Park.  I've seen that rage in Cheviot Hills, Rancho Park and other neighborhoods who opposed the Expo Line that is planned for at-grade construction on Overland Ave.  I've also seen it in South Pasadena, the Valley and Beverly Hills for other past and present passenger rail lines.
By and large, however, these "white communities" have lost … and lost big when they sued.  On the other hand, the Japanese-American community in Little Tokyo was able to achieve complete grade separation for the Downtown Light Rail Connector, but for the most part did so because both community leaders and transportation advocates and engineers realized (mostly without lawyers) what a mess would be created to both rail and surface street traffic without grade separation.
Meanwhile, Beverly Hills is lawyering up for what appears to be as quixotic a battle as any for a Wilshire Subway project that really, really needs to go to the heart of Century City to reach its full ridership potential.  The Subway and Downtown Connector are both projects that are highly favored by the Federal Transit Administration, and while transportation spending nationwide is going down these projects are still likely to get federal funding and/or loans.
So when the cry goes out that the lack of funding for a subway tunneling of the Leimert Park portion of the Crenshaw/LAX Line is a racial thing, it's very hard to believe that any color but that of green (as in "money", "moolah", "dead Presidents", etc.) is involved.  The lawyers of "the white Westside" who've fought well-planned and vetted Metro projects have all lost, and I'd rather not victimize Crenshaw Corridor and other South LA residents with wasted legal fees.
However, if we did come up with a few hundred million dollars I'd prefer to have that money go towards the planned northern subway extension of the Crenshaw Line to the Wilshire Corridor.  And just as the Westchester community is willing to put up with the visual impacts of an elevated Manchester/Aviation station over Manchester Blvd. to provide better local access (cost about $10-40 million, depending on who you talk to), I'm hoping that Leimert Park can find a compromise as well.
I can relate and respect the blood-pressure-raising, stomach-ulcer-forming, fist-through-the-wall rage that goes with being forced to deal with impositions or denials of projects that makes steam come out of your ears … but while most taxpayers and politicians will understand a $10-30 million betterment, it will be very hard to justify hundreds of millions for a project when billions of dollars are needed for other projects.
Money, not race, is why the Wilshire Subway will be built with virtually no parking, and why the Eastside will end up with fewer projects than other regions (despite Mayor Villaraigosa's roots), and why the four outlying corners of LA County will invariably feel short-changed in Measure R sales tax revenues.
But there is a silver lining in all these clouds of disappointment and lowered expectations:  tourism and transit ridership is up, despite our current economic challenges.  One such transit-based tourism of a Northern California family was recently chronicled
(link
), and one can only wonder what will happen over the next 10 years when the Expo, Crenshaw, Wilshire, Downtown and other lines will be built.
Will LA finally become like San Francisco, Washington, D.C., London, New York or Paris, with tourists and business travelers using mass transit to access what should be a fun and friendly LA Metropolitan area?  Will we have more commuting options than before to create a climate that's both nice for business in addition to the weather?
And will we one day get to the point where the whole race thing—particularly with respect to transportation projects—isn't  rammed down our throats anymore?
(Ken Alpern is a former Boardmember of the Mar Vista Community Council (MVCC), previously co-chaired its Planning and Outreach Committees, and currently cochairs its MVCC Transportation/Infrastructure Committee.  He is co-chair of the CD11 Transportation Advisory Committee and chairs the nonprofit Transit Coalition, and can be reached at Alpern@MarVista.org.    The views expressed in this article are solely those of Mr. Alpern.)
   -cw
Tags: Crenshaw-LAX Line, Crenshaw Blvd, Hector Tobar, race, Little Tokyo, Westside, South Bay, Mid-City, LAX, legal fees
CityWatch
Vol 9 Issue 59
Pub: July 26, 2011