AEG and the Downtown Revival: I Want To Believe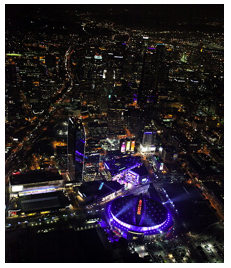 ALPERN AT LARGE
- Either through sheer coincidence or providence, the American Institute of Architects had a conference on the Architecture of Transportation at the LA Convention Center on June 24-25…right before AEG and Councilmember Bill Rosendahl had a town hall meeting on June 27th in Mar Vista addressing the proposed Convention Center renewal project that has generated so much controversy and discussion. Whether it's just fate, the aforementioned providence, or just the fact that Measure R and all of our transportation investments are setting the ground work for private investment in Los Angeles, the timing of all this is rather breathtaking.
I want to believe that the City Council and Mayor of Los Angeles "get it" with respect to a need for a Convention Center that competes with other major cities throughout the nation, but will find a way to fund that effort with respect to not obligating tax-strapped residents more than they can handle.
I want to believe that AEG isn't just spinning a talking point when they emphasized the Convention Center, and not a NFL football team, will be the centerpiece of the proposed project, when Leiweke and his planning/transportation team described how his project would be profitable even if a NFL team NEVER comes to Los Angeles.
I want to believe that Paul Koretz and Bill Rosendahl, who have both leaned hard on AEG to come up with a much better deal than before and a much better deal than virtually all American cities have gotten with respect to not obligating taxpayers to benefit a private developer, will continue to hold AEG's feet to the fire.
I want to believe that the union members and lobbyists (private sector, not City of LA public sector) who support this Convention Center renewal and who flooded the Mar Vista town hall meeting are comprised mainly of Angelenos who live and pay taxes within the City of Los Angeles.
I want to believe that the AEG transportation/planning team were dead serious when they wanted to create a strategy of remote mass transit (similar to that we see in San Diego and many other cities) to comfortably transport tens of thousands of fans and commuters to Downtown events from remote locations via
Metrolink and MetroRail.
I want to believe that LA City and County residents can recognize that the upcoming Expo, Crenshaw, Wilshire, Foothill Gold Line and Metrolink improvements will allow access to Downtown in ways not seen in decades…and that especially the Downtown Light Rail Connector will create a direct Metrolink/MetroRail transfer to the Convention Center, and that these lines will start becoming reality as early as next year with the opening of the first phase of the Expo Line to Culver City.
I want to believe that the carpool lane improvements (which include new lanes) on the I-10 and I-110 freeways as part of the Congestion Pricing Project that just broke ground will be part of a brand new strategy to get individual commuters and taxicabs from LAX, Ontario Airport and a variety of remote locations to Downtown destinations, such as the proposed and restored Convention Center.
I want to believe that AEG is dead serious about upgrading the Pico Blue/Expo Line station to accommodate increased access/egress of commuters to the Convention Center, and might even throw in some mitigation money to help fund the now-on-hold 5th/Flower station that has been dropped from the Downtown Light Rail Connector.
I want to believe that AEG is dead serious about working with the City, Metro and Metrolink to create and enhance remote parking lots and/or transfer points for car commuters to get out of their cars and be financially rewarded for taking the train to Downtown, and that perhaps they can be given the opportunity to profitably operate both existing and new parking lots in a manner that profits both themselves and the City of Los Angeles.
I want to believe that Angelenos can recognize that there are only a few good sites for density/development in the City of Los Angeles, and that Downtown (in addition to the LAX/Century Blvd. and Wilshire Blvd. corridors) is one of those few sites, thereby taking the pressure off the Westside, the Valley and other City suburbs for the unsustainable development we've seen for decades.
I want to believe that the City leaders (who have, for the most part, shredded their credibility with the voters and the taxpayers of Los Angeles) can convince AEG and all private developers who want to develop and redevelop Downtown that the taxpayers of the City and County of Los Angeles have already put forth over $10 billion of current and future sales tax revenues to create the mass transit network necessary for Downtown development to be possible, and that no further taxpayers obligations are either indicated or appropriate.
I want to believe so many things, but to paraphrase one grassroots leader, Jay Handal (West LA Neighborhood Council Chair, former Chair of the West LA Chamber of Commerce and currently in the middle of grassroots efforts to address the City's budget problems) in response to my own desire to believe this will work:
"We all want to believe…but if you click your heels three times on this deal, you sure won't wake up in Kansas."
(Ken Alpern is a former Boardmember of the Mar Vista Community Council (MVCC), previously co-chaired its Planning and Outreach Committees, and currently co-chairs its MVCC Transportation/Infrastructure Committee.  He is co-chair of the CD11 Transportation Advisory Committee and chairs the nonprofit Transit Coalition, and can be reached at Alpern@MarVista.org.    The views expressed in this article are solely those of Mr. Alpern.) 
  -cw
Tags: Convention Center, Measure R, AEG, downtown, Paul Koretz, Bill Rosendahl, Expo Line
CityWatch
Vol 9 Issue 52
Pub: July 1, 2011