High-Speed Rail, High-Speed Controversy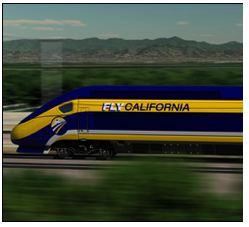 ALPERN AT LARGE
- For those of us who still support the California High-Speed Rail (CAHSR) Initiative (which Californians passed by a slim majority in 2008), it's evident that the questions and controversies still abound at speeds travelling faster than the trains that might someday criss-cross this state.
But those futuristic trains now exist only in our dreams, while the hubbub has spread from the future CAHSR hubs in San Francisco, Anaheim and Los Angeles all the way to Washington, DC and everywhere in between.
Some folks are downright infuriated.
(Link)
Some folks are forming organized opposition while the Sacramento Legislature is considering moving the power over the project away from the CAHSR Authority and to other facets of state government.
Some folks want to stick to the
original plan
and get on with it, already.
And some folks are just downright angry and disgusted at those opposing a project that so many Californians want to see built within their lifetimes.
(Link
) As more and more individuals utilize commuter train systems like Caltrain and Metrolink, or more regional train services such as Amtrak, the concept of train travel as an alternative to automobile or airplane travel will appear less cumbersome and more advantageous considering the minimal free time and maximal gas prices we encounter daily in 21st Century America.
The critics of starting construction in Central California (rather than in more urban centers such as Los Angeles or San Jose) do ignore, however, the fact that construction for any project starts where it's easiest and quickest to build.  The "lowest hanging fruit" of this project to grasp lie where the fewest routing and operational questions and controversies abound…which is AWAY from the urban cores of Northern and Southern California.
These critics also ignore the fact that a large fraction, perhaps the majority, of future CAHSR riders will be residents of Central California.  Very few commuters need to take the train from/to L.A. to/from SF (instead of available airline alternatives) compared to those travelling from Central California to these major hubs…because very few airline alternatives exist for those relatively small distances.
The ultimate show of support, however, comes from the mayors of Sacramento, San Francisco, San Jose, Fresno, and Los Angeles  who point out that the transportation needs met during the 20th century by the Interstate Highway System are being addressed in a similar manner during the 21st century by that of the CAHSR system.
The mayors point out how the Interstate Highway System also started in rural regions and without a guaranteed source of funding to complete the entire system…just like the CAHSR project.  Their contention is based on a desire to build a transportation network to improve our economy and mobility, and not as some political junket or public works/jobs program, and it is the argument that first passed muster with the voters.
So should we stop holding the collective feet of Sacramento and the CAHSR Authority leadership to the fire?  Decidedly not—money has not and should not ever be treated as if it grew on trees, and the Authority has shown too many past signs of arrogance and cost-ineffectiveness for us to ignore.
However, the problems that led to the CAHSR initiative that daily confront our economy, environment and quality of life still exist, and greater mobility throughout this state is still a goal for which we all strive.
The high-speed controversies will therefore be expected to continue, and the high-speed debates will remain furious and intense and complicated as we try to figure out how or even if we'll do this project right.  
But this project probably enjoys more widespread and persistent support than is likely to make our news headlines, and the polls to date show a greater concern overall how this CAHSR project money is spent than whether the project should be allowed to exist at all.
So the approach to high-speed rail in California appears to remain slow and steady…but definitely moving forward…to a high-speed future.
(Ken Alpern is a former Boardmember of the Mar Vista Community Council (MVCC), previously co-chaired its Planning and Outreach Committees, and currently cochairs its MVCC Transportation/Infrastructure Committee.  He is co-chair of the CD11 Transportation Advisory Committee and chairs the nonprofit Transit Coalition, and can be reached at Alpern@MarVista.org.    The views expressed in this article are solely those of Mr. Alpern.)
-cw
Tags: high speed rail, california rail, Alpern, Los Angeles, Sacramento, San Francisco, Caltrain, Metrolink, CAHSR, rail controversy
CityWatch
Vol 9 Issue 47
Pub: June 14, 2011