Brown Sticks to His Guns: Redevelopment Agencies Dead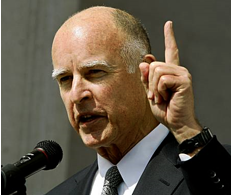 EXECUTIVE DECISION
- There's a lot to like in Jerry Brown's "May Revise" for the Budget, which includes reversing $3 billion in proposed cuts to public schools. But more significant is what he did not change: the Governor still plans
[link]
to eliminate redevelopment agencies, which rob billions from local government that could fund crucial services.
Given the hysterical response he got from the League of California Cities back in January, and the powerful interests for Redevelopment, Brown could have diverted some of the $6.6 billion in extra revenue to end an explosive political conflict. The fact he declined demonstrates the Governor's willingness to get real reform.
Of course, the May Revise still has devastating cuts to health care services – which will be made even worse, if none of the tax extensions get approved. And at this point, I don't see a real political strategy to get four Republicans to agree.
While the voters passed Prop 25 in November to require a simple majority to pass the state budget, it doesn't apply to tax increases.
And with Brown campaigning on a "no new taxes" pledge unless the voters approve them, we are right back to where we were. And with a two-thirds vote required to put anything on the ballot, we are still at the mercy of the most conservative Republicans in America to get out of this mess.
Some Democrats are focused on 2012 – hoping that re-districting and a higher turnout will give them a two-thirds majority. But even if possible, it will do nothing for the next year – as the state makes further cuts that decimate services.
At his May Revise, Governor Brown correctly pointed out that he offset part of the $6.6 billion in extra revenue to business tax credits and enterprise zones – an olive branch, perhaps, to get those extra Republican votes.
Frankly, I doubt many Republicans will agree. Every day, right-wing radio shock-jocks like John and Ken threaten these legislators with their head on a pike if they even dare talk about any tax increases at all.
And for the Republican base, the facts never matter when it comes to this issue. I admit I didn't take the Tea Party seriously back in early 2009, because they seemed completely estranged from reality.
Who's going to join a movement of "taxed enough already" when the President's federal stimulus had tax cuts for more than 90% of taxpayers? All that got lost in the cacophony, and the Governor's small gesture in the May Revise is not likely to get us any closer to four Republican votes to simply extend current taxes.

(Paul Hogarth is the managing editor at beyondchron.org where this column was first posted.
)  -cw
CityWatch
Vol 9 Issue 40
Pub: May 20, 2011