The Latino Connection to the Bowen Meltdown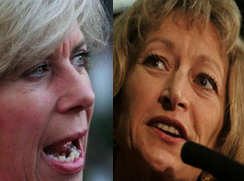 MAILANDER MUSINGS
- No matter what happens it was convincing: it didn't happen for her. I don't like progressive Debra Bowen's chances at all going forward in CA 36, even if she is lawyering up. And she is lawyering up: "Contribute now to help Debra Bowen fight for every vote ..."  
[link]
While the unseemly Bowen meltdown continues to resonate throughout the State's progressive ranks, the broader concern of Los Angeles Democratic politicos Tuesday morning is that Janice Hahn also drastically underperformed expectations. Nonetheless , the calamitous Bowen meltdown is the hot topic of the day.
Insiders had this race at 40 Hahn, and 25 Bowen, with unknowns Mike Gin and Craig Huey scrambling for the Republican 30% of the vote, with Gin on top--leaving poverina progressive Marcia Winograd with about 5%.
And indeed Winograd did fetch 5% of the vote--or she would have, had 30% of the voters come to the voting booths on Tuesday to elect a Congresswoman, rather than 17.
Voters did not turn out in numbers expected of a Congressional race--and that also spelled trouble for one of the top names in the State, Bowen's. It also spells coming trouble for the woman who proved to be the top name in the District after all--even if she wasn't enough of a top name to secure even one quarter of the voters on this day--Janice Hahn.
My read follows.
Janice Hahn, who has great name recognition in the district, chose a couple of top-flight local pros as her top campaign managers. Debra Bowen, who has good name recognition throughout California, chose two people associated with a third-tier group, the National Latino Congreso--to help her.
The Congreso for some reason made Harman flinch last year, but it has otherwise been fairly docile, and even unknown in the 36th.
It's really not much of a group at all, in fact; the organization with the unrepentantly Spanish-language moniker is largely a luncheon group that invites pols to sing their Latino bona fides to it.
(How do you know when you're not much of a political group at all? For starters, when something written by publicist Ed Headington comes up as one of four footnotes on your group's wikipedia page.) 
[link]
When Bowen chose humble but firey community organizer Daniel Chavez to head her campaign, Chavez thereupon immediately went to Luis Vizcaino, a longtime Latino communications figure, as his communications consultant. These selections were likely a very rough mix for an open primary in the 36th, where beach city Anglos vote in far greater numbers than Latinos.
In fact, Harman's success in the district as a Blue Dog likely owed in part to her circumspect track record on immigration--which she even found herself apologizing for last year,
[link]
to the very group that turned up so well-represented on Bowen's campaign, the very group that had denounced Harman as "anti-immigrant."
The 36th is far too beachy and Anglo for such true-believer staffing to work very effectively there.
That was how even a Christian fundie Republican was able to garner more votes than Debra Bowen in this District.
It's important to remember that Hahn underperformed dramatically too. But Bowen underperformed super-dramatically.
Going forward, Janice Hahn picking up Debra Bowen's handful of tortured votes is no picnic. Bowen's Latino voters may gleefully switch over to Hahn. But Bowen's Anglo voters are confused, irate, indignant as to why their candidate not only finished second but lost outright, and to such a political nonentity as Huey. They are only now beginning to realize that Bowen's absurd choices for her political team made this bed for them.
Northern Californians (like Debra Bowen these days?) may like to look at SoCal as one giant juggernaut of bilingual schools and taco stands, but there are indeed many Anglo bastions in it. One such is Jane Harman's old district, in which an unknown, Anglo, Republican, Tea Partying, fundamentalist Christian is likely to outpoll the far more widely recognized, State-level progressive Dem, Debra Bowen.
But with the kind of choices Bowen made in staffing her campaign, we're not surprised at this outcome at all. With eastside-styled activist Latinos waging an eastside-styled battle on the Westside, the tail was indeed wagging the dog in the beachy, Anglo 36th.
Incidentally, Brad Smith at
Bradblog
has an entertaining piece on the irony of Bowen putting her own op-scan voting system, which she championed, to the test in her own race. But you already know that irony, once it has a foot in the door, it kicks it in every time.
No matter how you slice it, it doesn't look pretty for Debra Bowen.
(Joseph Mailander is a writer and an observer. He blogs at street-hassle.blogspot.com where this column was first posted.
) –cw
CityWatch
Vol 9 Issue 40
Pub: May 20, 2011