The Stealth Election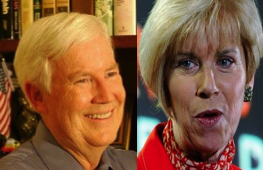 THE UNDERPERFORMERS
- Voters apparently had trouble finding Tuesday's election on the radar. Less than 16% of them turned in a ballot for the 36th Congressional race and even fewer of them cast a ballot in the two education elections. Observers think that both Councilwoman Janice Hahn and Secretary of State Debra Bowen underperformed. Hahn collected 25% of the vote. Bowen 21% … 206 fewer than businessman and Republican Craig Huey the runner up. The LA Clerks Office says we should get the final results on Friday … telling us who will oppose Hahn in the runoff in June.
(Full story)
For those who were surprised by that Republican Huey did so well, LA Observed's Kevin Roderick asks
"What's all the Surprise About"
Meanwhile, retired teacher and long-time neighborhood council activist Bennett Kayser narrowly leads Luis Sanchez in the LAUSD School Board battle. There are votes yet to be counted but those with expertise in this election campaigns believe the order of finish will go unchanged. (
Full story)
Scott Svonkin defeated Lydia Gutierrez for the LAC College District seat.
-cw
CityWatch
Vol 9 Issue 40
Pub: May 20, 2011