Neighborhood Councils Survive the Budget Crisis that Wasn't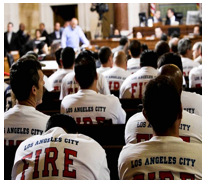 CITYWATCH
- The City's Council spent eight and a half hours on Wednesday performing their public agonizing and finalizing of next year's $6.9-billion budget. That included the controversial 'trimming' of the police and fire budgets … shutting down some fire engine teams and carving millions out of the police overtime account. (See the Times report
here.
)
The Council also chopped $19 million out of the Rec and Parks budget, reduced homeless programs by 10% and the graffiti removal program by 6%. The City Council and LA's neighborhood councils took 10% hits … reducing NC funding to $40,500 each for the next fiscal year. Neighborhood councils also had their unencumbered funds swept.
So neighborhood councils will receive slightly less … as they knew they would …  for next year but they survived. They also survived one of those the-world-as-we-know-it-is-ending false alarms.
The media sizzled. Email warnings went viral. Breathless phone conversations bounced through the ether. "They are gutting and shutting down the neighborhood council system," Jay Handal … NC Budget Advocates Committee Chair… told the Weekly.
(Link)
Warnings went out to NC brethren: Show up for a press conference … show up at council chambers or risk losing everything!
Handal told the Weekly that he had received a "heads up" from the Mayor's office. "Here's the way I see it," he went on, "An attempt by putting it out there that they are going to suspend all neighborhood council funding - this is an attempt to reduce us down to probably $10 - $12,000 [for each neighborhood council]. And make us feel better about it. I think what they are doing is they're coming in with the hardball, figuring, alright, we will have everybody all crazy and pissed off and then we'll satisfy them by giving them $10 grand for operating money."
As it turns out, there never was a threat to neighborhood council funding. Just a routine budget memo, misinterpreted and the misinterpretation blown skyhigh.
Apparently the City's neighborhood councils weren't buying the 'code blue' call to action anyway. Only a handful of NC reps made the trek to City Hall for the funding apocalypse.

(Ken Draper is the editor of CityWatch. He can be reached at: editor@216.18.22.247)
-cw
CityWatch
Vol 9 Issue 40
Pub: May 20, 2011