Improving Public Safety or Picking the Public's Pocket?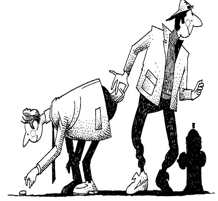 Promises of efficiency and revenue herald the arrival of LA's Administrative Citation Enforcement (ACE) Program, a streamlined process that is positioned as a public health and safety tool for the departments who provide code enforcement services to the people of Los Angeles.
The ACE program is an alternative enforcement method that allows the Police, Fire, Building & Safety, Housing, Transportation, Public Works, and Animal Services to issue administrative citations within their normal scope of work rather than the traditional citations that tend to get lost in the priorities of the City Attorney's office and the logjam of our court system.

Current code violations tend to take up to a year to process, wearying both those who initiate the complaints and those who fight to defend themselves against the complaints. The only winners are those who abuse the system and benefit from the random effectiveness.

Debate over the ACE program tends to position the same features as both benefits and liabilities.

For example, the fact that the program is a source of revenue is a benefit to a city in the midst of a budget crisis but it hardly bodes well for the defendants that their guilt and penalty is linked to the solvency of the city. Against the backdrop of the LAPD's recent "ticket quota" court case, the notion that the program's success could prompt overzealous hearing officers to generate revenue has been positioned as a liability by civil rights advocates.

The fact that the ACE program has a lower burden of proof is a benefit in terms of efficiency, allowing Pro-Tem judges (attorneys who volunteer for the courts) to process the low-priority cases that tend to get lost in the current scenario. Of course, the ease with which defendants may find themselves on the penalty end of a judgment issued by hearing officers eager to please their potential future employers is a liability.

The fact that the program is complaint-driven is a benefit to those in the community willing and able to participate by initiating complaints for barking dogs, gasoline leaf-blowers, over-height fences, front lawn parking and a host of other violations. At the same time, it allows for an uneven application of citywide municipal code, creating a liability that can fracture a local community by pitting neighbor against neighbor instead of simply applying standards that are enforce uniformly and evenly.

While the concept of a City Attorney's office that can focus on serious crimes while the ACE program dispenses with the lower priority violations is attractive and potentially revenue generating, the devil is in the details.

Missing from the proposal is an interdepartmental process establishing responsibility for tracking and collecting administrative fines for all non-contested citations.

If the revenue goes to the General Fund, departmental motivation is lost. If the revenue goes to the respective Departments, it creates a motivation to generate citations.

Through it all, it relies on efficiencies within the City Attorney's office but does nothing to address the disconnect between the many Departments with the authority to cite for municipal code violations.

The Neighborhood Council Budget Advocates have called for the implementation of the City Attorney's Administrative Code Enforcement (ACE), referring to it as a "Revenue Generator."

The ongoing debate will need to determine if the ACE program is an effort to improve public safety and health more efficiently or to generate revenue more efficiently.

(Stephen Box is a grassroots advocate and writes for CityWatch. He can be reached at:                                  Stephen@thirdeyecreative.net. )     -cw




CityWatch
Vol 9 Issue 33
Pub: Apr 26, 2011