LAX Expansion: The Other Shoe Drops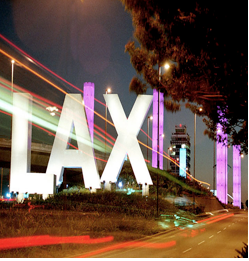 TRANSPO POLITICS - It's not hard to conclude that the LA City Council's approval of LAX Modernization Alternative 1 is just a smokescreen to camouflage it's disregard for the 78 Million Annual Passengers (78 MAP) limitation that was approved as a settlement for a lawsuit by Westchester, Inglewood and Culver City in 2006.  
Now that Alternative 1 has been approved, Ontario and the San Bernardino County Board of Supervisors will join them in a new legal battle. 
And try as they may to NOW approve an incentive package to increase L.A./Ontario ridership, it's still pretty obvious that LA World Airports was only going to do the right thing (encouragement regional airport traffic, MetroRail access to LAX, beautification and signage and cleaning up of LAX and LA/Ontario airports) AFTER they got their bloody pound of flesh:  expansion into the Westside. 
Well, the City Council gave LA World Airports their bloody pound of flesh, even before the Lincoln/Sepulveda closures were resolved, and long-term potential of LAX to expand far beyond the legally-accepted 78 MAP limit was virtually ensured...so we shall just have to see how this plays out in court. 
But I've got just a few questions for those who still don't understand what the big deal is about expanding LAX into Westchester--and with grave implications of traffic and worsening pollution affecting the entire Westside, including those communities on both sides of the 405 freeway, as well as communities in the Valley and South Bay: 
1) Did signage, cleaning up the ugly terminals (both southern and north), artwork really need to wait until after expansion into Westchester was approved? 
2) Did MetroRail access to LAX central airline terminals really need to wait until after expansion into Westchester was approved? 
3) Did the incentive package to encourage airline flights and decrease costs into LA/Ontario airport (it's now half the flights to/from other state and national cities, and for 2-3 times the cost, into LA/Ontario airport as there is for LAX) really need to wait until after expansion into Westchester was approved? 
4) Do you really give a damn about the 78 MAP limitation, or do you just see that as a fiscal limitation to the welfare of the City's budget and business--regardless of how it affects the liveability, quality of life and environment of the entire west half of the City of Los Angeles, the San Fernando Valley, and the South Bay portion of LA County? 
Just wondering, as the other shoe now loudly drops.
(Ken Alpern is a Westside Village Zone Director and Boardmember of the Mar Vista Community Council (MVCC), previously co-chaired its Planning and Outreach Committees, and currently is Co-Chair of its MVCC Transportation/Infrastructure Committee. He is co-chair of the CD11 Transportation Advisory Committee and chairs the nonprofit Transit Coalition, and can be reached at Alpern@MarVista.org  He also co-chairs the grassroots Friends of the Green Line at www.fogl.us. The views expressed in this article are solely those of Mr. Alpern.) 
-cw
CityWatch
Vol 11 Issue 38
Pub: May 10, 2013